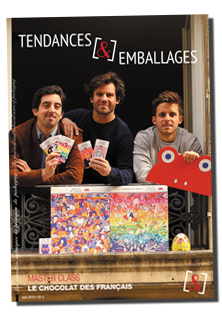 is a quarterly review which summarises current events and technical information about printed packaging.
From the initial idea to the production of the packaging, you will find useful information which is essential for professionals in this industry (such as buyers, decision-makers, buyers, packaging manufacturers and suppliers of raw materials).
Tendances et Emballages « Detector of trends » your partner for your development.
June 2018

-----------------------------------------------------------------------------------------------------------------------------
OPINION

Sylvia Vitale Rotta - President-founder of the group Team Créatif

Sylvia Vitale Rotta: the prodigious designer
Sylvia Vitale Rotta is not a character born out of the imagination of Elena Ferrante. We could be convinced that her life is like a saga novel, worthy of the Neapolitan author. President-founder of the group Team Créatif with her husband Nick Craig, the transalpine has transcended the codes of packaging and branding for more than forty years. A free electron with a singing accent that stands out and charms the biggest of the brands. Self-confident, the Italian designer tells us about her career, Team Créatif and her uncompromising vision of the market. On your marks!

Everything started in Paris where Sylvia Vitale Rotta set down her bags in the seventies and became an au pair for the mythical couple Jane Birkin and Serge Gainsbourg. At 5 rue de Verneuil, between two baby sittings and a trip to Castel, the young graduate of the London School of Art & Design followed Jane's advice: "Continue your life as a designer!" So she joined the agency Petronio & Butcher in 1976. With her husband Nick Craig, they buy shares of the Paris agency before branching out on their own, by launching Team Créatif. The success doesn't wait with Ajena and his famous Kiki, "the Kiki of all Kikis ... A fantastic story!" Recalls Sylvia Vitale Rotta with a touch of nostalgia. Soon, the agency becomes a reference in the world of toys, but that is not enough to meet the expectations of the couple of designers. Their goal? Expand their areas of expertise, particularly in the food sector. It will be with Danone and their baby food, water and pet food with Mars Incorporated. "They are still our two big favorite customers", says Sylvia Vitale Rotta. A success story that owes a lot to its two exceptional creators and to the DNA of the agency whose "base is branding and packaging identity". At the time, few people talked about packaging identity in France ... In addition to these innovative concepts, the uniqueness of the Team Créatif group and its success reside in something much more trivial: "The food, the children, the animals, the life!" Says Sylvia Vitale Rotta loudly and clearly. A philosophy of humanism at the service of brands and consumers.
When it comes to the place and role of packaging, Sylvia Vitale Rotta's answer is unequivocal: "Packaging is not a superfluous good, or a gimmick. It is not a luxury, it is there to protect, to guarantee a healthy product. It's a societal good!"
Same story when asked about environmental issues: "This is not a trend, but a need! We sensitise our customers to this theme through studios and workshops. We encourage them not to overpack. It must be the most recyclable possible!" The other workhorse of the Team Créatif group is transparency towards consumers. For Sylvia Vitale Rotta, it is imperative for brands to play "the card of honesty with clear messages on the composition of a product even if there are additives!" To answer this problem, she sees connected packaging as a tremendous opportunity. "It must not be a gimmick, it must be at the service of better eating, the consumer and the brand" with a pedagogical speech towards customers (example: to sensitise the youngest to vegetables) and a highlighting of the efforts of the companies for the environment and society. "Connected packaging is a media to simplify communication, it is not there to sell, but to inform, reassure and make credible! As a branding and packaging agency, our concern is to offer a real service, not a simple marketing tool to sell more!"

For the founder of Team Créatif, brands and packaging professionals have many challenges to overcome. In addition to the issues of sustainable development, Sylvia Vitale Rotta warns about cost reduction at the expense of quality: "There are more and more products, and intense struggle to reduce prices. Therefore, the consumer is lost, they have trouble finding their way. They lose the notion of valuation, in favour of a search for a low price. This is a real problem because we send two contradictory messages ... If it's cheaper, it's inevitable that there is a moment when we save money". At Team Créatif, brands are encouraged to focus on quality, and not just focus on ways to reduce prices.

Today, Team Créatif Group employs 300 people and has numerous subsidiaries in the world: Brazil, Indonesia, the United States ... In 2017, the turnover amounts to 35 million euros, of which, 60% for the packaging sector. The first woman from the world of graphic design to receive the "Insignes de chevalier de la Légion d'honneur" (the insignia Officer of the Legion of Honour), Sylvia Vitale Rotta is not a character from a novel, but the proof that creativity goes beyond fiction!